*This post may contain affiliate links. There will be no extra charge to you, but I will earn a commission if you make a purchase.
Different Styles of Eyeliner
I love eyeliner, it's wonderful for finishing off a look. Whether you want a dramatic cat-eye or extra smokiness along the lash line. However, there are different types of eyeliner and different ways of using it. This can be confusing and often off-putting. I avoided eyeliner for years, it looked just that little too hard for me to master. Over the years I have tried many different styles and techniques, although I am no way an expert this series I've started to help you if you feel that eyeliner is that little step too far out of your comfort zone.
Today I'm looking at different types of eyeliner. They come in a wide range of colours and finishes such as matte or glitter. Your choices are endless but I'm going to start with the three basic formula's eyeliner can be found in. Pencil, Gel and Liquid.
Pencil Eyeliner
Pencil eyeliner always seems to be peoples first point when they begin to delve into eyeliner. I think it's a great starting point because it's far more forgiving than gel or liquid. If you find the right formula in a pencil it will blend easily but also stay and not smudge once it's dried. It's not the cheapest option but this one from Urban Decay does both of these things. With 50 shade options, there will certainly be something for everything. I have known this to stay even within the waterline, not just on the lid.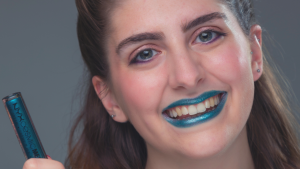 I used this product in shade * in this makeup under the lash line to add another colour and some more depth under the eye.
The one downside I find with pencil liners is that it's hard to get a crisp line. there may be a technique that I am yet to find, but as a general rule, I find them too soft.
Gel Liner
Gel liner is by far my favourite type of eyeliner to use. I find it so much easier to use, especially compared to liquid liner. I always apply it either with an angled brush with fairly dense bristles or a smaller slightly rounded flat brush depending on what effect I'm looking for. It can once again come in a wide range of colours and is brilliant for creating a sharp line.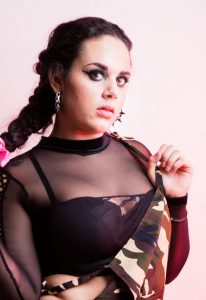 You can see this in the image above where I create a dramatic winged liner using gel for this fashion shoot. As with pencil, it can depend on which formula you get how easy the gel is to apply, and what effects you can create. The main downside with Gel liner is that it can dry up. Obviously you can prevent this by not leaving the lid off for too long but in time it will happen. I have found some brands are better than others in this regards. It's always a good idea to take time and find the best one for you.
Liquid Liner
So I have a confession, I hate liquid liner. I've tried to use it so many times that I've now given up. I'm allergic to a lot of it which doesn't help. However, on the rare occasion where I do find I can wear the brush tip is far to thick to create the look I'm after.
Liquid liners have their advantages, it's like a pencil liner in the sense that you only need the one product. Unlike Gel where it needs to be applied with a brush. But it has the crispness and strength of gel liner. You can also get a whole range of brush types, such as felt tip style in many different widths. I have found that there are fewer colour choices than gel or pencil, but that might be because I haven't looked properly. Since I don't use it, I have seen some fun glitter liners in my time.
There you have it, that's my breakdown of the three types of eyeliner. What you can get and what I think about each. What is your favourite type of eyeliner? Do you agree with what I think?
Want to read more? Here are some posts you might enjoy;