*This post may contain affiliate links. There will be no extra charge to you, but I will earn a commission if you make a purchase.
I still remember one of my first ever Halloween party. I've not been too many, growing up I was busy actually on Halloween at a scare attraction with my family. Watching then taking part. Once I grew up I've never been into going to party's in general so it's not my cup of tea. But this party, it was my Girl Guide Pack's annual Halloween party which very rarely fell on Halloween. I was 10, maybe 11 and my mum and I decided I was going as a spider. So dressed all in black with two pairs of tights pinned to my back stuffed with newspaper for my extra legs. What I didn't know was that there was a prize for best costume every year. That year I won it for my spider costume.
I thought Halloween makeup was either skeletons and cats or a huge amount of fake blood for a long time. Obviously, you can do this for your Halloween look, but as I've grown and developed as a Makeup Artist I've found so much more out there. Halloween Makeup doesn't have to be gory to be creepy. It doesn't even have to be creepy. Some Halloween makeups I've seen in the past are absolutely beautiful.
With the looks I've created this year I think there's a balance between creepy and pretty. I've had so much fun making these looks. I hope you enjoy them and get some inspiration for your own creations.
Look One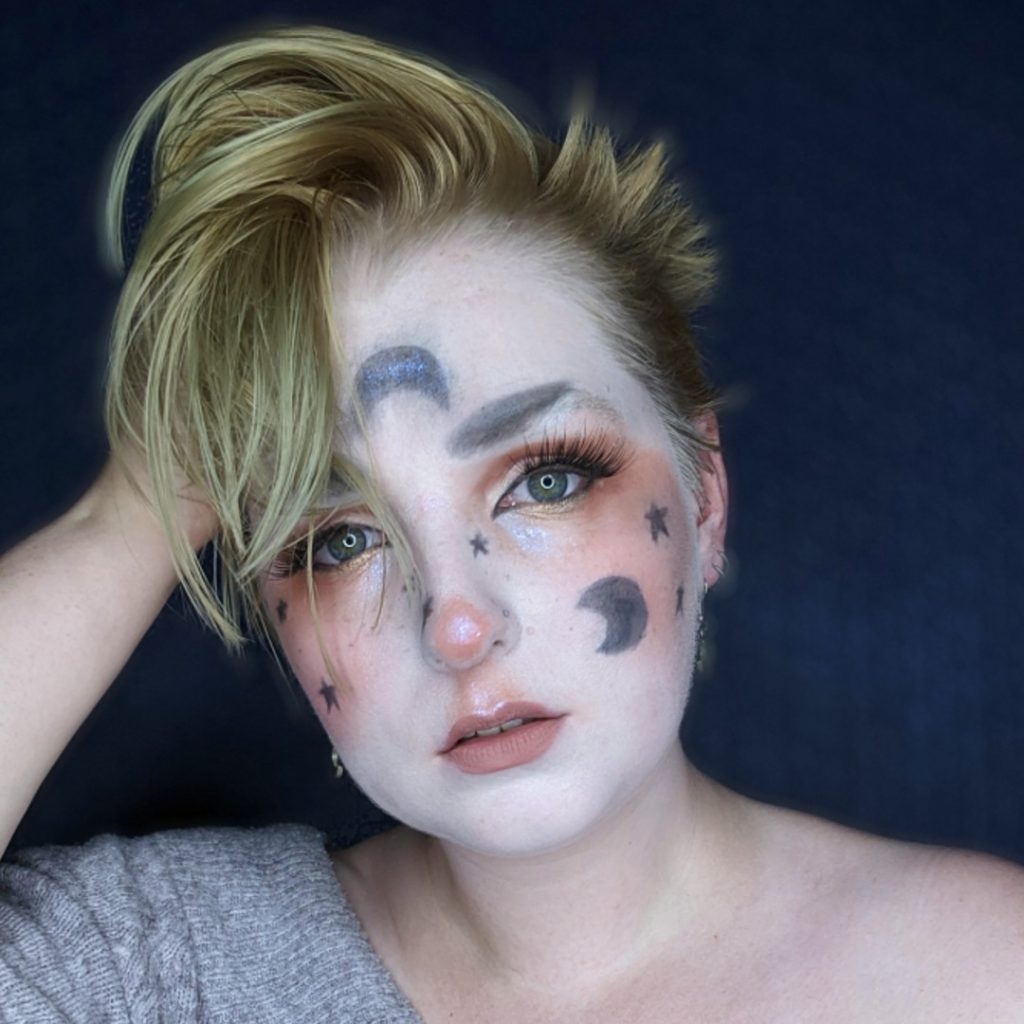 I still can't decide what this look is, to me it feels like a mixture of moon worshiper and a clown. But that might just be from the nose. I had so much fun playing with this look. Afterwards, I was covered in glitter for a week from the highlight. And it was good to have practice drawing shapes with a brush and a cream face paint.
I did have a brain freeze midway through, I forgot how to draw a star. Yep, a five-pointed star, the ones I've been drawing since primary school. However, I had my friend there to remind me and I was able to keep going. The moons I'm not happy with, I forgot I had a template made when I did the first one and it's nearly impossible to use it one-handed. But we live and learn.
This was overall a fairly simple look to create, as it didn't need that many products. It did take time with the drawing and blending to create the final look, however. If you're interested in taking a look, I created this look for a Tictok video so if you'd like to take a look you can find it here I'm still learning how to use TikTok but feel free to join me.
Look Two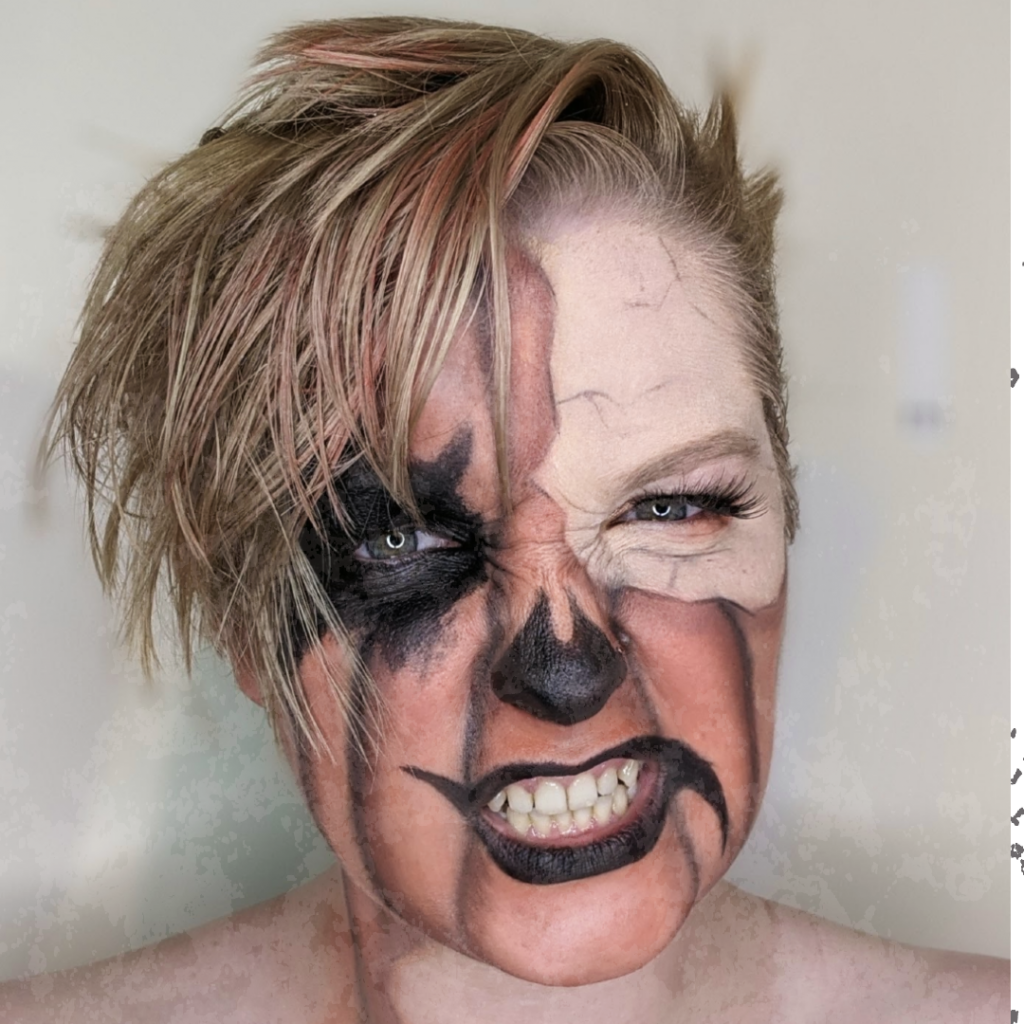 I've always loved pumpkin looks that I've seen over the years so this year I had to create one for myself. It was worth me being covered in black for a few days even after a shower. If you ever use grease paint, take as much as you can off before you jump in the shower.
This look used mostly mixes of colour, orange and yellow to create the base and brown with orange to create the shadows. The shading was my priority for this look trying to make it more 3D, and for contrast, I used a lighter colour in the middle of each section. The hardest part I found was creating the shapes around the eye and mouth. Pumpkins always have such fun carved eye shapes although I didn't want to make it too busy to detract from the main design. Eventually, I found a shape that worked, but at one point it looked as if I had a flag over the eye which definitely didn't work.
For the 'beauty' section I used Fenty Beauty Pro Filt'r Foundation with the Makeup Revolution Soph Eyeshadow Palette* for the eyes with lashes from Loubie Lashes.
Look Three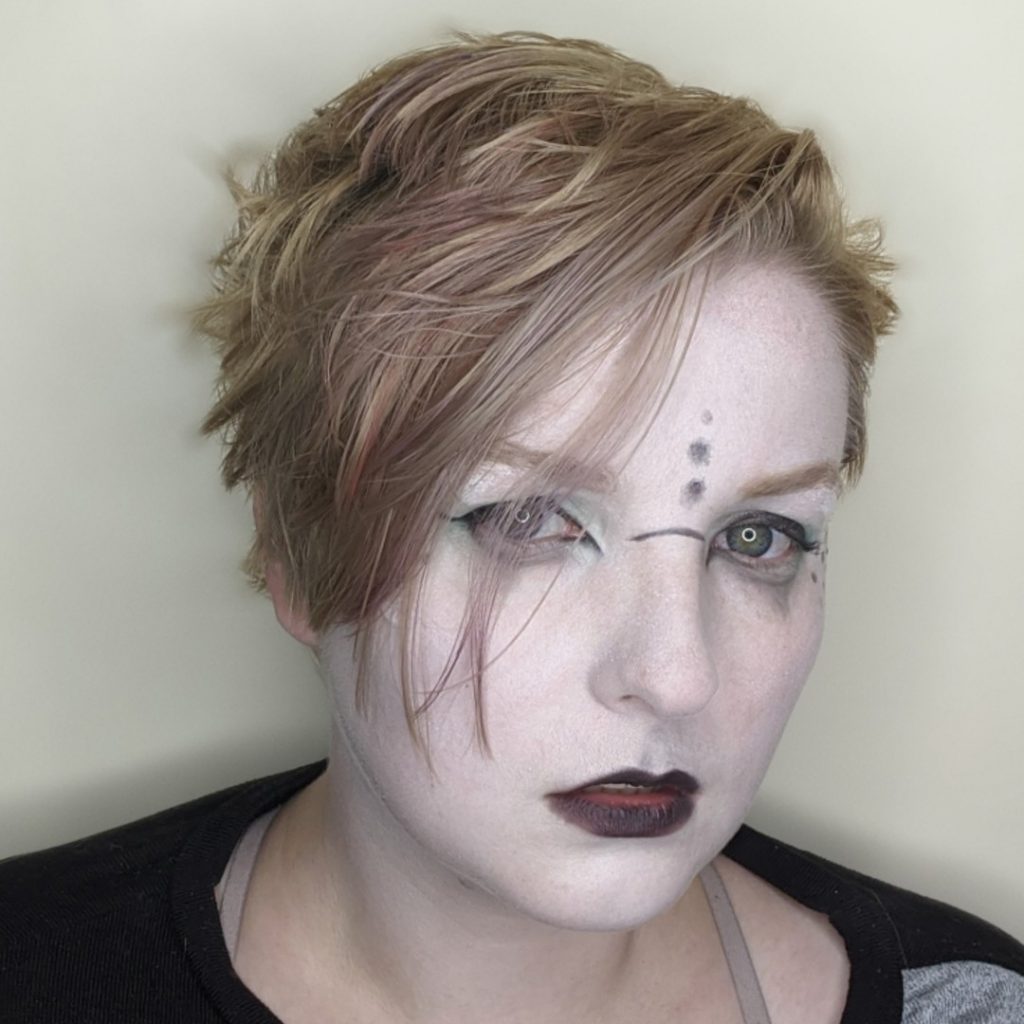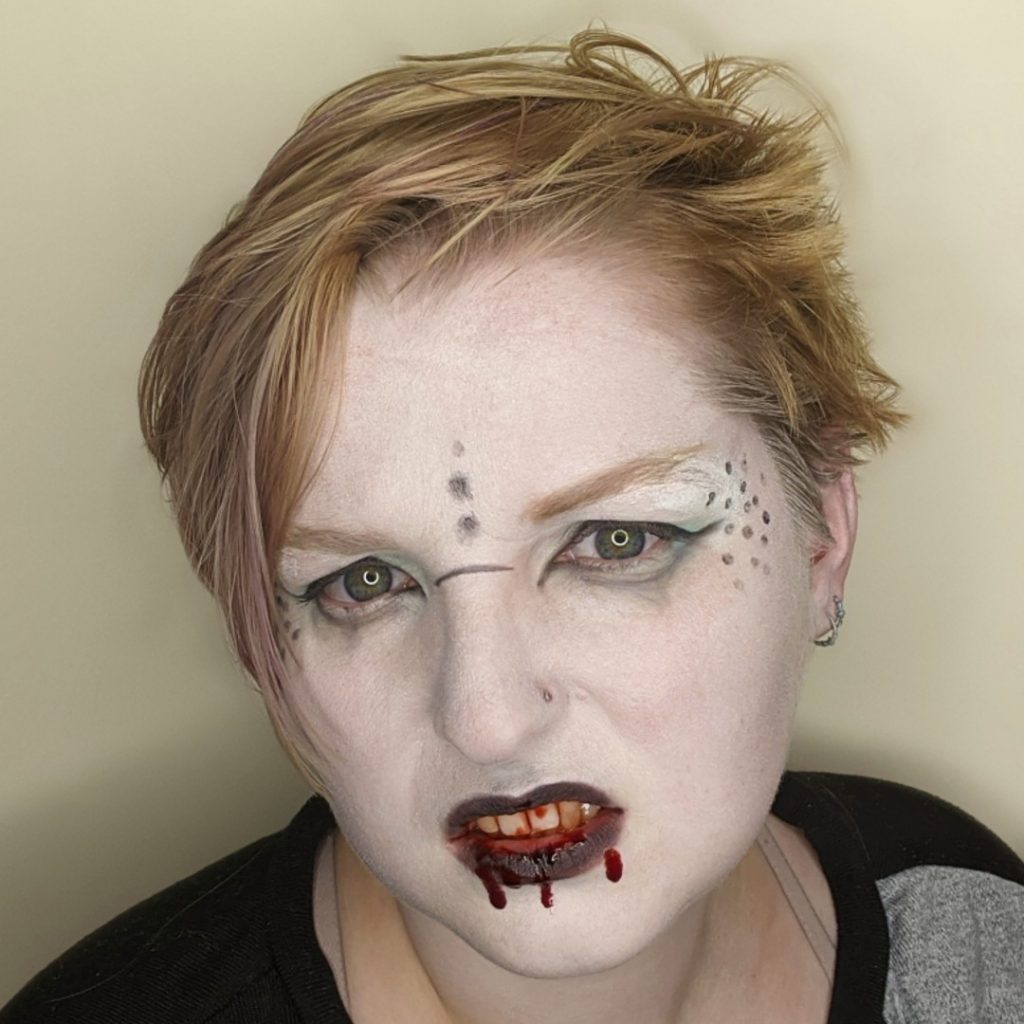 I of course had to do one look that included some fake blood. I saw a lot of Elfin style looks floating around on Pinterest and I wanted to give it a try. It required me to attempt to partially block out my brows, which isn't one of my strong skills. But it gave the desired effect. I thought it would be fun to show two different sides of a look. Creating a character at first that looks nice, that could suddenly turn into something else.
Mostly this look was many layers of a white base from Makeup Revolutions SFX* collection. Combined with a soft shade from the Huda Beauty Pastels Mint palette all over the eyelid. Finishing off with details around the face using some face paints with a fine brush and some cotton buds.
I have recorded a short video tutorial for this look. If you'd like to gain access to it click here.
Look Four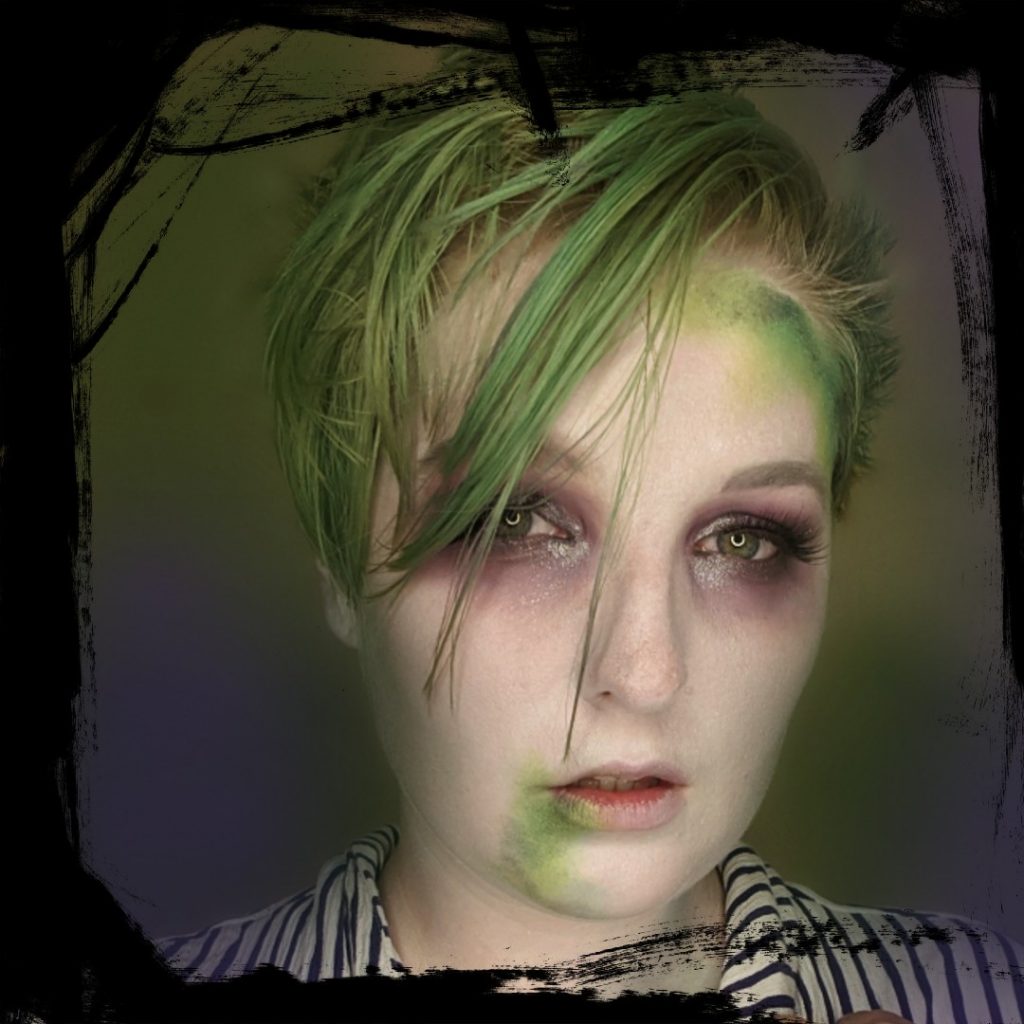 My final look was influenced by Beetle Juice the film. Can you tell? This is a film that I hadn't seen before this year although I had seen images. Purple and green have always been one of my favourite colour combinations which sold it even further. All the looks we're fun to create but this one was so different. It was grungey and didn't have to be pretty. It was a great time to practise blending, especially with the greens. Creating a softer look around the mouth and the forehead.
I had fun using the combinations of colours to create the effect around the eyes, especially the silver in the inner corners. It added an effect of being tired and ill that was subtle, but still there. This was probably the simplest of the four looks as it was mostly a combination of the different colours around the eyes and face. But still was just as fun as the others.
These are the four looks I created for this years Halloween. What's your favourite? What are your plans for Halloween this year?
Want to read more?
Creating an Amazing Autumnal Look