*This post may contain affiliate links. There will be no extra charge to you, but I will earn a commission if you make a purchase.
What's this? two blog posts in a single week? I failed to post last week, now I'm making that up today. There are so many options when it comes to choosing makeup. Especially when you first start wearing it. I wouldn't have wanted to spend loads when I first started experimenting and learning.
This is where Primark comes in. They have a range of makeup that is affordable, vegan and cruelty-free. It's a great versatile range with many options of foundation, eyeliner, lipstick and everything else you'd ever want. To see how versatile the makeup is I invited the lovely Kelly and Zoey from Our Transitional Life to try them out. I created different looks for them both.
For the eyes, I used the Ps Summer Storm eye shadow palette. It has a mix of mattes and shimmers in shades of pinks, browns and purple with a few golds thrown in. The collection includes 16 eye shadows and 4 baked shadows which give some wonderful shimmers, that are a different texture to the rest.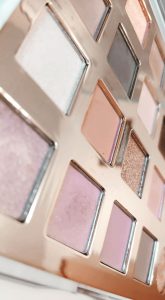 For Kelly, I used the shade Bluster across the whole lid. Followed by a combination of Hot and Smoke in the outer corner. I then took a little more of Smoke along the lashline to deepen it as well as the lower lashes. I had recently become obsessed with a shade from one of my Makeup Revolution Palettes so I cheated a little and used that colour in the inner eye. But I would have used Ice from this finished the look off, along with the Wonder Lash mascara.
Foundation wise I used the Stick Foundation in Porcelain with a little of Rich Expresso as a contour. In the face palette from the same collection, I used Degrees blush and Thunder highlight. And finishing off with this lovely metallic deep red lipstick. I really liked the soft but definned look this colour combination created.
I wanted to create something different for Zoey. A more defined, almost smokey look is what I went for. This is a simple eye look to create. Firstly I used Radar in the outer corner to add definition and depth to the eye. Layering Black Ice over the top creating a slight wing and blending towards the inner corner. Then finished off with Icicle in the inner corner.
I used the same foundation in Cool Sand with the same darker shade for contour, with Humid and Cloud for blush and highlight. The lip I went bold using a deep red colour that went wonderfully with her hair. Unfortunately, none of the lipsticks had names on the packages but they were both from the Cranberry collection.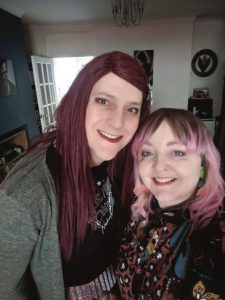 Overall I enjoyed using these products. Everything was as versatile as I thought initially imagined. I used a single eye shadow palette and face palette, three foundations, one mascara and two lipsticks to create two very different looks. I was happy with how they turned out and I hope Kelly and Zoey were too.
So the Primark Makeup range is definitely the way forward for someone who is looking to start experimenting without spending a fortune. There are so many different options in the Primark Makeup range, including different eye shadow palettes and lipstick collections.
My only problem with the eye shadow palette is that the pinks are very warm. Often coming out pretty orange. I don't have a problem with orange eye shadow, but it's not what you want when you were expecting pink. Other than that, it was a lovely palette to use and it could be used to create a good range of looks.
Have you tried any Primark Makeup? What are your thoughts about it? What is your favourite product?
Want to read more? Try these: